Anyone reading this who is interested in cycling around Taiwan, this is for you. I start with some background and then get into the day-by-day specifics of the trip with excerpts from my travel journal. For practical advice about the trip, such as a packing list and where I rented my bike, click on the button below below the map that says "Practical Advice." Also, I've made an interactive Google map with exact locations.
In June of 2014 I cycled around the circumference of Taiwan. The journey lasted 17 days, but can be done in as few as 10 if you don't stop much or even fewer if you only do the eastern half of the island, which is more scenic. I took my time and stopped in places where I felt I wanted to spend more time. If you've got the time and the interest, let life take you.
Some quick background, I was living in Taipei and was reaching the end of my time there as a Henry Luce Scholar. As the culmination of my experience in Taiwan I decided to take the Mandarin I had learned and put it to good use. Taiwan is a naturally beautiful island and ideal to see by bicycle, and the government has gone to great lengths to make the experience safe and appealing to cyclers. Great cycling paths. Also, Taiwanese people are exceedingly kind and welcoming and so Taiwan has the makings of a perfect cycling storm.
A friend of mine and fellow Luce Scholar, Craig Western, had done the trip and convinced me that it was not to be missed. Thanks, Craig!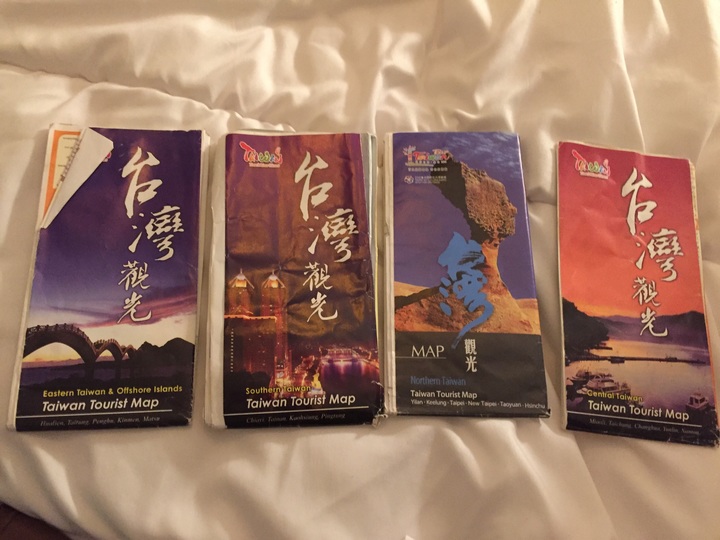 Leg 1, Day 1
Getting out of Taipei was surprisingly difficult and stressful and took longer than I would have liked. Then it was pretty easy. The Northwest part of Taiwan was actually pretty creepy. It was like an abandoned city– huge apartments and avenues and almost nobody. It reminded me of those towns built to test nuclear weapons. There were construction workers everywhere, but not other regular people. I could really see urban planning taking place – a huge city just waiting for the population to grow. Freaked me out quite a bit.
Right around this time it began to rain and I just kept going. Eventually I had beautiful mountains (around Ximen). The ocean and mountains were beautiful. I stopped around 11 a.m. when it was down pouring and had a nap at the 7-Eleven. After that I started feeling much better. I stopped Jinshan for lunch. Why would they build the visitor center on a hill?!
Biked to Keelung to my hostel only to discover that it is not in Keelung, but like 15km away. Womp.
Lesson: Don't always trust HostelWorld.
Arrived at my hostel at 6pm and could barely walk. Was too tired to walk the 25 min to the night market, so I had Caremart food for dinner. Watched some TV and passed out.
Tried to wake up this morning only to discover that I felt absolutely dreadful. I am clearly very dehydrated. It was worse than most hangovers I have had. Slept until 2pm then started hydrating like mad.
Watched the newest Game of Thrones episode and consumed ½ the water cooler. Then walked to the night market for dinner.
Lesson: Check the saddle bag before departing. Mine is ripping and I need to sew it.
Leg 2, Day 3
Lesson: Put my journal in a water-proof container. This journey may be the death of it. Ugh.
Yesterday I biked 90km- or 56 miles. Roughly. It was great! The first 2/3 of the trip was smooth sailing and beautiful views. I saw verdant mountains and bluffs and iron grey sea. I aw a big red cargo ship and bright blue hull, contrasted on the green mountain and grey sea. Just beautiful. Such a wonderful ride. I drank so much water and used almost every 711 I could find. But I am not dehydrated, so it is a win all around.
After I stopped for lunch it began to rain. And I mean pour. At first I waited for about 45 min for it to subside. My options were to just stay put or go. So I went. I did my best to water-proof my saddle bags, and set out. The rain turned into a downpour and I found myself biking in a deluge. Every inch of me was soaked and surely, so was my stuff. But I felt alive. Really alive. At one point I just started laughing, smiled, and let out a huge yell and embraced the situation. It was like the death of my control. Or the death of my uptightness. I just surrendered myself and went with it.
Leg 3, Day 4
Today I opted to take the train from Ludong to Hualien. The weather was so bad yesterday and the road there seems rather dangerous. (1 lane highways, sheer cliffs, dark tunnels, and big trucks. I would rather also have had t stay in Suao tonight, and need to make up some time from being dehydrated. For these reasons I am taking the train. I really want to get to Green Island and spend a few days there. Also Kending and chill. So sacrifices need to be made.
Turns out the road from Yilan to Hualien was closed so if I had chosen to ride it I would have been diverted up and over the mountain and wouldn't have arrived in Hualien until 9pm, like another biker.
In Hualien I went out into the night market and got food. Pretty cool!
Leg 4, Day 5
So at 10am I set out for RueiSuei. It was a really beautiful ride and I just saw gorgeous green mountains and nice fields. A really quality ride. I took the advice of a guy I met on the train and stopped at the Hualien Tourism Sugar Plant in Guangfu to get ice cream. It was a good goal to work toward and was 2/3 of the way to RueiSuei. I also had a lunch of beef noodles in the little town of Guangfu.
When I arrived in RueiSuei I biked 3km to the RueiSuei Rafting Service Center. They helped me reserve a rafting tour and call the hotel I wanted to stay at.
I took Lonely Planet's recommendation and stayed at the RueiSuei Hot Springs Hotel, which is the oldest and largest running hot spring and guesthouse in the area. I biked there and it is at the very very top of a huge hill. To get here it was like the never ending journey, but I made it. The last 10 min it started raining, so it was perfect timing!
I stayed in their "dorm" for 600NT. Wound up being 670NT with breakfast (like $18). Since there was virtually nobody else in the dorm, I had a huge (6 ping) room to myself! It was a tatami mat style place with sliding panel doors. Not bad at all!
They have 4 hot springs pools - Scalding – Very Hot – Warm – Ice. They also had private baths. I enjoyed and tried all! After all that biking, it was heaven to slide into the hot spring. They were all covered by tents, and at this point it had really begun to pour.
I will forever remember the sound of the pattering rain against the tent roof, the feeling calcium-rich water, and the gorgeous view of the valley and Tropic of Cancer as seen through the sheen of rising steam from the pool. Just magical.
Leg 5, Day 6
Today I went rafting all day and then took the train to Taitung. Rafting was AWESOME. The scenery was gorgeous- we rafted this gorge on the Siouguluan River. I made friends with three people my age from Singapore. It was like a combo of white water rafting and water fighting! It was especially enjoyable- the rapids were decent and we got stuck on a rock and almost capsized! Such a rush. Since I was the only white person, our boat was the target for a lot of water fighting. It was very fun.
Then they dropped me back off at the River Visitor Center and I biked in the pouring rain back to RueiSuei. I got soaked and then went to the laundromat for 2-3 hours. Did my laundry, read, and got bit by bugs. My bites were very bad and so after that I went to the pharmacy to get stuff for them. I got this menthol cream and ACE bandages. Fucking hurts.
Got dinner and made the 8:02 train. Go to Taitung at 9:50 and biked to the hostel in the rain. It's next to a Carrefour!!!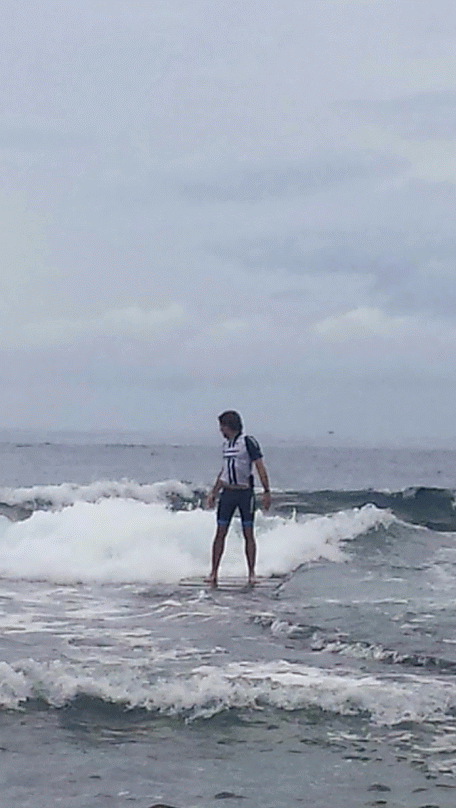 Leg 6, Day 7
Woke up this morning and biked to the dock. I made the 9:30am boat to Green Island. Talk about a rough boat ride! I felt so sick and had to close my eyes.
Arrived at Green Island at 10:20 and then found a hostel. It is called the Blue Safari and it is kind of a hostel- also there is a family living here. Little kid naked butts!
Since it was raining I got lunch, biked to the hot springs, and chilled for a few hours. Now I am dehydrated again. The hot springs were so relaxing. Then I biked around the rest of Green Island, which was not fucking easy. The incline was killer. Saw just gorgeous mountain and sea scenery, though.
Tomorrow back to Taitung.
Leg 7, Day 8
I got the boat from Green Island at 2:30pm and biked to the hostel that I had previously stayed at. I had the entire hostel to myself, which was wonderful. The previous night I had chosen the crowded hostel over the private nice hotel room because I felt that it set and followed the tone I wanted for my trip. It turned out to be a good decision and I met another biker from Hong Kong, a woman from HK, and a man from Korea. The mosquitos and wasps turned out not to be an issue, so I think it was the right call.
However, after the crowded hostel on Green Island, it was great to have my own space. It was pouring rain so I went to Carrefour, bought granola and almonds, a bottle of DOCG Chianti, and a box of Chips A'hoy: I took off my shirt, ate cookies, drank my bottle of red wine, and watched TV. It was great. Oh I had mango and peaches too. Took me a very long time to get the bottle opened without a corkscrew, but I got there in the end. Thanks, YouTube.
Leg 8, Day 9
Got up at 5am because I wanted to bike from Taitung to the Rainbow Wave hostel near Kenting. Every bike blog I read said to do this in 2 days. I wanted to get to the Rainbow Wave, and it was 125km away. Doable.
So at 5am it was pouring. I would have been completely soaked in 5 min, so I went back to sleep. At 8:30am the rain had pretty much stopped, so I set the goal to leave by 9am. I estimated that I could get there by 6pm. Maybe a little bit after that.
Left by 9am and began at a really solid pace. Got to Dawu by 1:30 and has a lunch of perhaps the best beef noodles I've had so far. The trick was the other veggies and spices she put in- fresh green onion, fern leaves, and hot peppers. Really it was quite excellent. Dawu is the place where most people stop for the night, but I was going ahead.
Not soon after, I realized that I didn't put on suntan lotion and was very burnt. Stopped, applied, put on long sleeves and a neck cover-up, and continued.
Route 9 goes down Taiwan's east coast, then toward the bottom it goes across the country, which takes it over the mountains. Then to the west coast.
The climb up those mountains was the most physically challenging ride of my life. At some point it was a 35 degree incline, and they were winding. At one point I couldn't even believe the road kept going uphill because it seemed we were at the top of the mountain. But no. Up and up and up we went.
I spotted a cool Buddha statue and got off my bike to take a photo. Mistake. Then I noticed the dogs as they noticed me. Two of them stared at me. One had 3 legs, so I will disregard him, but the other had 4 legs and was moving fast. I managed to get on my bike and stat, but I was in 1st gear because of the incline, so I wasn't moving fast. The dog was level with my left calf and trying to bite me. I almost lost my head. Somehow I managed to get the bike into a higher gear and moved quicker, but I was going uphill. Finally, I managed to go more quickly and adrenaline pushed me forward. No sooner had I gotten away from that dog than another dog came out of nowhere and started chasing me. This one was even bigger. With another burst of adrenaline, I left him behind too.
This was legit scary and for the rest of my ride I avoided stopping on the side of the road unless 100% necessary.
I met another biker at the top of the mountain range and we took each others' pictures.
Finally- FINALLY I reached the summit. From there I flew down that mountain range- my top speed was 55 kph. I didn't even have to peddle! Just beautiful mountains, and a steep slope down on well-paved roads. A cycler's dream. So for as difficult as the ride up was, the ride down was awesome. I was all the way up in the clouds!!
So after crossing over the mountains I made it to Taiwan's West Coast. It was a real feeling of accomplishment. Then I still had another 50km to go. NBD.
The rest of the ride was easy but pretty hot. The sun was really shining and I continued to drink lots of water.
At around 6pm I made it to the Rainbow Wave. I trekked 125km (77mi) in 9 hrs. Not bad for me!
At the hostel they recognized me and remembered my name from when I stayed there previously! They had a room and I paid for 3 nights at 600NT (18USD) a night.
Got dinner with some nice people at the hostel and went to the bar with them. It was exactly what I wanted to do. I'm relaxing hardcore.
Chill in Henchung at the Rainbow Wave
Today I woke up without an alarm. Talked to Mom and Dad on the phone for a long while. Then went into the reading room with my Kindle. I sat in the bay window seat, opened the window to let the breeze in, and read. I haven't been that comfortable or relaxed in a long time. Led Zeppelin was playing softly. Needless to say I took a long and comfortable nap. It was so glorious.
Eventually woke up around 6pm and read some of "Blink" by Malcom Gladwell. Thought about life a bit.
Tomorrow morning at 8:30 or 9:00am I think I am going to go surfing with the hostel owner. I've never done it before. The perfect time to learn!
This place is my place. My paradise. The place that I go in my mind when I want to think of someplace happy. This hostel owner has hit the nail right on the head. I'm so glad I learned Chinese if only to be able to discover and come to this place.
The hostel owner is grilling up some Flying Fish. Asked me to join. Apparently it goes well with Taiwan Beer :)
---
Today we tried to go surfing, but the weather was too bad. However I got to see the ocean and the plateau of this area and it was breathtakingly gorgeous. Looked like something out of a movie.
Relaxed again today and decided to stay here one more day- my bed will be this couch b/c all the other beds are taken! I don't mind… this couch is awesome.
Leg 9, Day 12
Today was another very relaxing day. Woke up around 9am and prepared for a bike ride to the southernmost tip of Taiwan- Eluanbi Park. I biked in pouring rain and it was great! I don't mind getting drenched when all my possessions aren't with me and I'm prepared. Got to Elunbi without incident and realized that I had already done this on a previous trip down here with my friend Sam! So instead of paying to go into the park, I veered right and went to the pier. Since a typhoon is looming it was very cool to see the fishermen. Got lunch at the seafood place right there- snails, mussels, and squid. Way too much food, but good!
By the time lunch was over the rain had stopped, and I had a pleasant bike through Kending's main street. I stopped a bunch and bough souveniers – colorful bracelets and anklets, Bruce Lee playing cards, and Formosa magnet. I buy high-quality gifts! Ha.
Got back to the hostel, washed my clothes in the shower, and chilled. Read more of "Blink," took a cat nap, and planned my trip back to Taipei on the big maps. I like paper maps!
Tonight I plan to go to the bar across the street, get drunk, and listen to live music. Then watch some World Cup. Life is good.
Life is good.
At this point in the journey, I lost fine motor control in my hands. It was quite scary. Something was wrong with my bike setup. It was more that the bike was too small, the handlebars too low. The seat too high, my gloves weren't passed enough or I was death-gripping my bike. IDK, but it cut off feeling and strength in my fingers. I couldn't even hold chopsticks or cut with a knife! Stabbing with a form was impossible. So holding a pen was out.
Leg 10, Day 13
I did not enjoy the views on the West Coast nearly as much as the East. It was hot and smelled like shit (and mud).
I did, however, meet up and stay with a friend in Koahsiung. It was great seeing a familiar face, and he and his friend took me to a great dinner spot and to the night market for some delicious mochi.
Leg 11, Day 14
From Kaohsiung I cycled to Baidu – a very small coastal town. My ride was like 110 km, and the hotel I stayed in here was a P.O.S. Really gross. I had some good chowfun (fried rice) for dinner, but enjoyed my night watching a movie in my room.
Leg 12, Day 15
From Baidu I rode to Taichung – 135 km (like 82 mi). It was really rough. Met up with my friend Dante from Teach for America at his place, which was very nice. He and I got good American food and beer – by this time I couldn't hold chopsticks. We just chilled and enjoyed each others' company.
Leg 13, Day 16
The next day I biked to Hsinchu, which is a really cool city. I like it a lot – it was modern in a smaller way. And people seemed happy. I stayed at the budget hotel option recommended by Lonely Planet and it was great! Finally got a dinner of steak and eggs over noodles, but couldn't cut the steak b/c of my hands. I spilled the hot soup all over me b/c I couldn't hold the ladle. Now I got very worried. So worried that I opted to go back to my room, call my mother, and watch TV instead of going to cool bars; it made me feel better.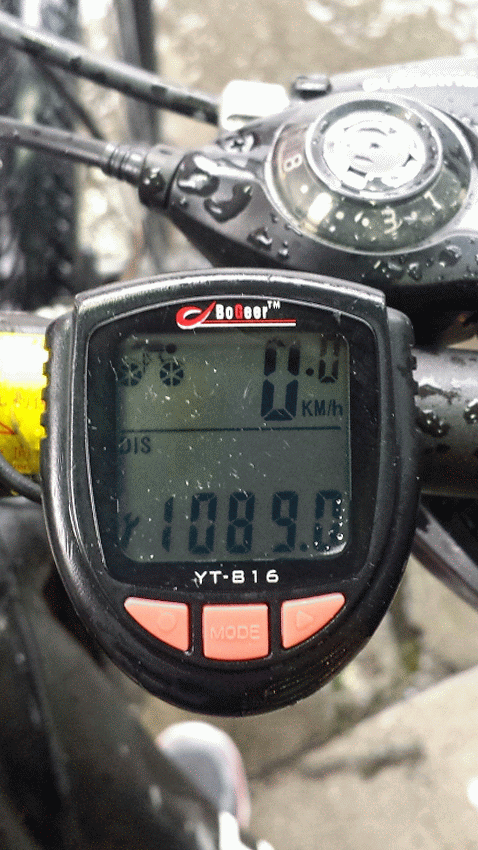 Leg 14, Day 17
The final day I biked back to Taipei. Mom said it was ok, and I wanted to finish my goal. Stopped at Bali for a double lunch of Pho, and finally made it back to Taipei! Fittingly I got poured on in Taipei, so I ended the journey very wet.
And it was over! I did it! I felt tired, but I did what I set out to do – what I said I would do all year. The trip reminded me who is in control of my life. It makes me want to other things too:
white water raft the Grand Canyon
run a marathon
visit Alaska
19 days of cycling – 14 days of cycling, 5 of chill
Total distance 1089.0 km (676.7 mi)
Longest distance in 1 day: 135 km (83.9 mi)
Time spent w/ bike wheels in motion: 58 hrs (2 days 10 hrs 15 min)
Calories Burned: 20,549
Average Speed: 18.6 km (11.6 mph)
Max speed: 57.5 km (35.7 mph)
Goal accomplished!